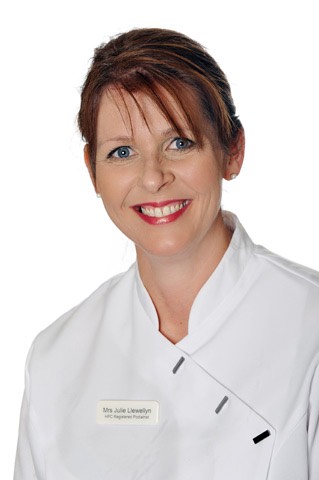 Julie graduated from the Durham School of Podiatric Medicine in 1991 and immediately secured a position within the NHS.  Initialy based at the former Anglesea Road Podiatry Unit in Ipswich, she was assigned to hold clinics at GP surgeries in Ipswich, Eye, Stowmarket, Bildeston and Mendlesham; as well as providing a Domicillary Service for the same areas.
Julie developed a special interest in diabetic foot care and gained extensive experience working in the Diabetic Footcare Clinic at Heath Road Hospital in Ipswich, under the guidance of the Diabetic Consultant.  As well as holding outpatient clinics at the hospital, Julie also attended wards to provide treatment.
Specialist experience was also gained when Julie worked at the Orthotics Clinic in Ipswich; assessing, diagnosing, manufacturing and then fitting orthoses with the Medical Shoe Fitter at the Hospital.
Julie soon became a respected and accomplished Podiatrist and after a few years working within the NHS decided to persue a career in private healthcare.  Initially establishing a domicillary service in local Residential and Care Homes, work rapidly expanded to include sessions in local private practices and clinics, including the prestigeous Shrublands Hall.
In 2007, Julie joined the Podiatry team (now the 'The Ipswich Foot Clinic') at Gilmour Piper in Ipswich and initially held weekly clinics in addition to her other work commitments.  Over the following years, clinic-based work took over from her domicillary service and now Julie works exclusively in clinics.
Julie established a new Podiatry clinic at Stowmarket in 2014.  Based within the existing StowHealth GP surgery she works closely with other healthcare professionals to provide a comprehensive Podiatric service.
Julie regularly attends educational seminars, training sessions, conferences and presentations maintaining Continuing Professional Development (CPD) in order to retain her membership to the Health and Care Professions Council (HCPC) and the Society of Chiropodists & Podiatrists.
By maintaining registration with professional organisations, Julie is able to keep up-to-date with the latest developments in Podiatric Medicine in order to offer the best possible service to all her patients.